About
Kings MMA
Our team of fitness and nutrition professionals are invested in your health. We make every decision with our members' well-being in mind. Achieve your goals with us!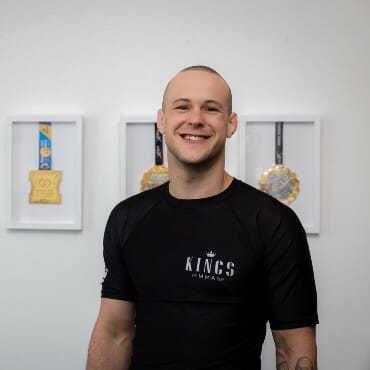 01
Hoshi Friedrich
Founder
A lifelong practitioner of martial arts, Hoshi Friedrich began Karate at the age of three, training under his father Stephan. By age 15 he was keen to explore the world of full contact competition and found a home with Brazilian Jiu Jitsu, Boxing and MMA. At age 16 he began competing in MMA making his professional fighting debut at 19. Now 10 years into a professional career that has seen him travel the world, Hoshi holds a Blackbelt in Karate, a Black Belt in Brazilian Jiu Jitsu from his coach Thiago Stefanutti. With multiple students trained from complete beginner to active fighter, Hoshi has committed his life to bringing the absolute best from his students and their time at Kings MMA.
Qualifications: • Blackbelt, Brazilian Jiu Jitsu (Thiago Stefanutti, Onya Academia, Brazil) • Blackbelt, Karate (Go Hean Ju Ryu, Shotokan) • Registered Professional Boxing and Combat Sports Board Victoria Trainer, Matchmaker and Promoter • Active registered professional fighter (Boxing, MMA)
02
Amy Friedrich
Coach
An active competitor in Jiu Jitsu and MMA since 2014, Amy has travelled the world in pursuit of the highest level of jiu jitsu competition. With national accolades that include every major event in Australia, Amy has had no choice but to look to the International Brazilian Jiu Jitsu Federation World Championships to challenge and expand her achievements. Amy has friendly nature and takes care of the entire team, whether it's understanding the rules and getting and edge for their competition, or wondering what to focus on learning first, Amy's deep knowledge of Jiu Jitsu supports fast development in her athletes.
Achievements: • Pan Pacific Jiu Jitsu Champion • Australian Jiu Jitsu Champion • State Jiu Jitsu Champion • Certificate III & IV Health and Fitness.
Take the first step.
We can't wait to meet you
Chat with a coach at Kings MMA to learn more about what program will fit your goals.
Fill out the form below to get started
Take the first step towards getting the results that you want
Free Intro